Today we explain in a five-minute video how to manage document versions and revisions (1.0, 2.0, …) with  R2 Docuo, keeping track of any official changes made to them.
In some document categories like Offers or Contracts, keeping track of each document change and punctually informing users about them is key. Version control is the right tool for that.
When we enable version control in a document category we start working in a document draft. Each time we publish the document we tag it as a published version of it (1.0). Changes cannot be made to a published version, to do so a new document version (2.0) or revision (1.1) must be created.
Let's see how we would set up version control in R2 Docuo for a document category and see the difference between a draft and published version of a document…
Today we present a new five-minute video tutorial recently added to the official list of product tutorials. Number 17 of the series…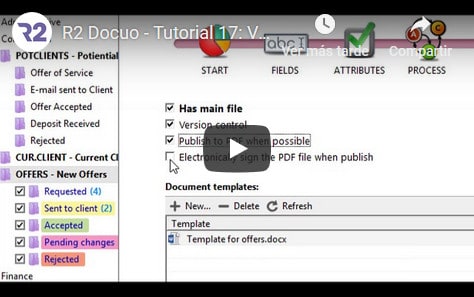 If you are looking for a tool that allows you to manage document versions, you should definitely evaluate an ECM software.
If you do not want to miss any of our video content you can subscribe to our YouTube channel to be the first to know about the news.
More tutorials will be added soon. Stay tuned.
See you in the cloud!